Zillya! Total Security
The product with the highest level of protection!

Additionally, it has instrument of computer's control and module "Parental control".

This product is ideal for whose, who cares about information security of all family.

Firewall

Firewall
Sets the rules of incoming and outgoing connections for programs installed on your PC

Anti-phishing

Anti-phishing
Blocks websites designed to steal personal user data

Anti-spam

Anti-spam
Blocks penetration of spam messages on the user's PC

Parental control

Parental control
Provides parents an effective tool for monitoring of child's activity on the PC

Optimizer PC

Optimizer PC
Allows to identify junk system files and to free more disk space

Process Manager

Process Manager
Allows you to control and manage running applications and processes.

Startup Manager

Startup Manager
Utility of workload optimization has been designed to increase the speed of your PC.

Privacy protection

Privacy protection
Program that allows to remove traces of the user's work on PC.

Operative support 24/7

Operative support 24/7
Round-the-clock telephone support for users.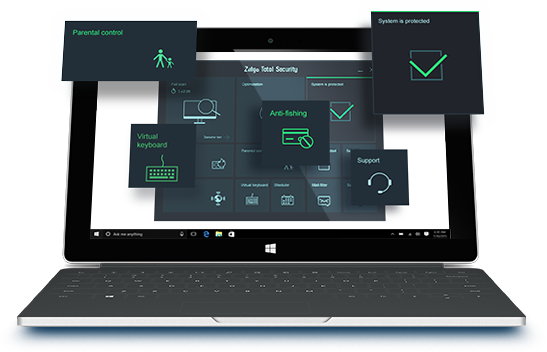 About
product
Antivirus products of Zillya! do not overload the system, consumes a small amount of resources and fulfills its protective functions without even affecting the speed of PC.

Minimum system requirements of Zillya! Total Security:

Processor Speed - 1 GHz and higher;

RAM - 1GB and more;

Hard disk space - 450 MB;

Operating System - Windows XP (SP3), Windows 7 (х32, х64) (SP1), Windows 8.1 (x32, x64), Windows 10 (x32, x64).

Screen resolution - 1024 x 768 or higher